News
Oncobit at BiotechX and MEDICA
Oncobit presented its cancer-type specific diagnostic and monitoring solutions to the MedTech community. For the first time Oncobit took part in the BiotechX, Europe's largest congress covering diagnostics, precision medicine and digital transformation, as well as the MEDICA, world's largest medical trade fair for medical technology, diagnostics and pharmaceuticals.
It was a great opportunity to introduce Oncobit's cancer-specific diagnostic and monitoring solutions to experts from the diagnostics, pharmaceutical and healthcare communities, and to discuss with them how we can help to enable personalized cancer therapies. Medica and BiotechX were also a great occasion to learn about new innovative solutions and see how we can bring them together with our approach to true precision diagnostics. In particular, the need for test and software analysis solutions that provide comprehensive, cancer-type specific and therapy-relevant data for clinicians became clear.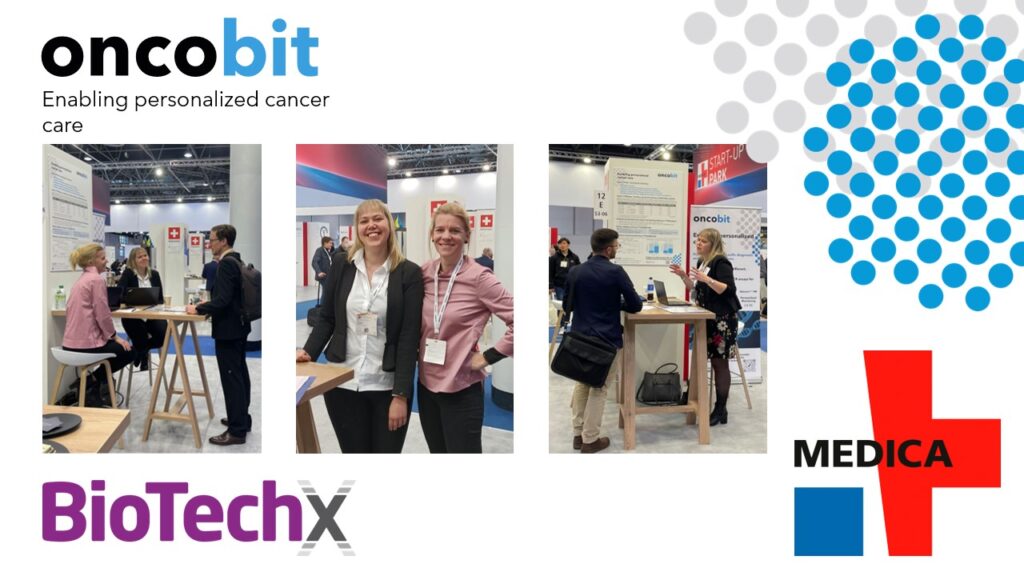 Altogether, these were very interesting and productive days, which brought us valuable contacts to future partners and customers in Europe and the USA and were thus a further step towards building our market presence.
We would also like to thank Innosuisse, Switzerland Global Enterprise, BiotechX and Medica for their support and everyone who came by our booth and showed interest and curiosity in our work.